WEIMER CHIROPRACTIC RECENT AWARDS
Thank you to the 6,325+ patients and friends for voting Dr. Weimer, Best Chiropractor on Internet websites such as Google, Yelp, Facebook, The Three Best, Modesto, and others. Our Facebook business page shows we have accumulated 779 Likes from our patients and friends since enrolling in Facebook twelve years ago,

Dr. Weimer was voted Best Chiropractor Modesto on the website Three Best Rated, 2015. He was introduced with the quote, "Simply the best Chiropractor in town and possibly in the area. Dr. Weimer is very good at what he does. He is courteous, professional and takes the time to learn about your injuries." The Three Best Rated repeated this award to Dr. Weimer in 2016, 2017, 2018, 2019, 2020, 2021, 2022 and 2023. This award has been given to Dr. Weimer for the last eight consecutive years. One of our best complement is that our patients often refer to Dr. Weimer as "the Miracle Worker."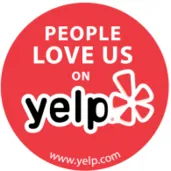 Dr. Weimer encourages you to review his business and follow the results on websites such as Google, Facebook or Yelp
Google has such a high rating of Weimer Chiropractic it often refers patients to Dr. Weimer for searches on accident recovery, pain, backaches, chiropractor or even chiro.
BizVotes Modesto has consistently voted Dr. Weimer The Best Modesto Chiropractor for the years 2023 through 2009, Fifteen consecutive years.
Dr. Weimer is the only Modesto Chiropractor rated 5 star on Google, Facebook, and BizVotes. Only two chiropractors, Dr. Weimer and one on our good friends have been named to the Three Best Rated for five consecutive years beginning when the first awards were made.
---
We provide one of the most complete exams, Sports Physicals, Ultra-Sound, Electric Stimulation, and other treatments for adults and children. Dr. Weimer is the first Modesto Chiropractor to offer on-site full digital hospital quality X-ray. The X-ray images are often available to see on a high definition monitor in minutes.
---
Dr. Weimer was named Board Eligible in Functional Neurology by the Carrick Institute in 2011.
The award on the left was given to Dr Weimer for volunteer work in a Medical Clinic in El Salvador.
Dr Weimer was awarded the Clinical Excellence Award when he completed the Internship in his Doctoral Program.
Dr. Weimer's Doctoral Diploma indicates he graduated with honors, Magna Cum Laude.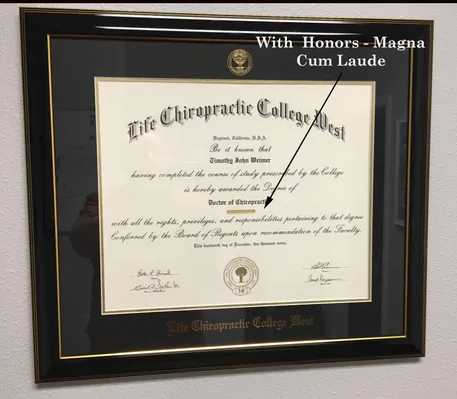 Click on the Appointment icon in the upper area of the Welcome page, Text or call 209-549-9987 to schedule a visit, Today.