Dr. Weimer is awesome! Super happy I found him. He's very knowledgeable, friendly, and listens to your concerns. My back feels a while lot better. Still working on a few things but little by little have been improving. Will be coming back regularly as well for adjustments. I would recommend him to anyone.
Written first on Facebook
in April 2021 by V. Bernal
---
Amazing customer support and great Chiropractic care. Congrats Dr. Timothy Weimer DC. on the new office. First written on Facebook by Marcella G.
Simply the best.
by Scott R.
---
Please write a review of Weimer Chiropractic on Google.
We encourage suggestions given personally at the office but we also encourage you to review us online.
Plan a 3 to 7 sentence review to enter on Google.
We have made this easier to submit by clicking once on the picture above.
---
Weimer Chiropractic is the best Chiropractic office I have been to. I am an auto accident Veteran. I have crashed through walls, toppled telephone poles, rolled down embankments. Please note that I was not at fault for the accidents but that does nothing to ease the pain afterwards. In my most recent "mishap" I was waiting to make a left turn when I was hit from behind by a car going around 70 miles per hour. My car was totaled, but things could certainly have been worse. I was knocked unconscious and the force snapped part of the seat belt as I flew forward, and broke the car seat when I flew back, leaving me to fly forward and back like a rag doll. I was able to walk away from the accident but my body was in chaos. Working with Dr. Weimer was amazing and I appreciated how varied his approaches were when dealing with my pain and ailments. There were no cookie-cutter treatments. Each visit was evaluated for my specific body condition and pain level. The office worked to get me in regardless of my erratic work schedule, and have been great about squeezing me in on days when I woke up unable to function but didn't have an appointment. Treatments have done wonders for my mobility and pain. I recommend this office to any friend looking for Chiropractic treatments, and I wholeheartedly endorse Weimer Chiropractic for any accident, whiplash or pain condition.

Written by Mandible on Yelp and summarized for this website.
I am in the best shape ever, thanks to Weimer Chiropractic. Micheal P.




Bones the service dog is an asset to this office. Better keep him around. V. D.
---
ALL I have to say is Dr. Weimer was a miracle worker!!!!!!
by LD originally written on Yelp

I Highly Recommend Dr. Weimer, No Up Front Costs
I am grateful to have found Weimer Chiropractic. My name is Darrell H. and I was a letter carrier with the US Post Office for more than 36 years. I spent most my career carrying a satchel which caused my spine to twist and discs bulge and pinched nerves. After trying many chiropractors in Modesto and Turlock, including those that had me sign a contract for $3000.00 up front cost with the guarantee the pain would go away (which it did not happen) I was so relieved to find Dr. Weimer. There was no upfront costs and Dr. Weimer has helped me more than all the other chiropractors I had gone to combined. I personally and highly recommend Dr. Tim Weimer.

Written by Darrell H. originally on Google + 2015
---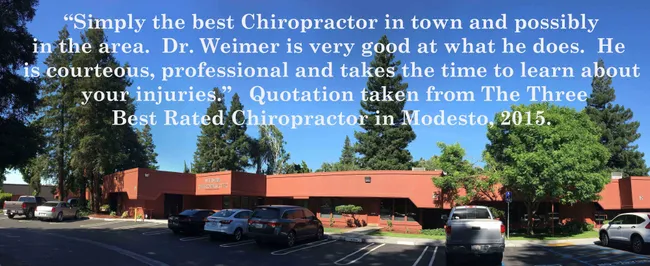 Dr. Weimer is amazing, Saved me from having to get surgery! Ashley C.
---
Car Accident Collision- Recovery from Pain
While waiting for a stop sign, I was rear ended. I had no pain and felt nothing for two days. The next day I woke up stiff, and sore and could not lift my head or turn my head without extreme pain. I called my family doctor who asked me to come in that afternoon. After an X-ray I was told I had whiplash, was given a muscle relaxer, a referral to a physical therapist and told to take Tylenol for the pain. I called the physical therapist and was told they would not treat me for weeks because they could injure me further. Near tears from neck and shoulder pain, I emailed Dr. Weimer at Weimer Chiropractic. He answered quickly and told me to come in right away. I showed up at his office with many questions. He and his staff helped me feel comfortable, answered my questions and calmed my fears and concerns about what I had heard about Chiropractors.
Before seeing Dr. Weimer, I had acute pain. I had difficultly driving, sitting at my desk, working on the computer, talking on the telephone and typing. After one treatment my pain went down down greatly, after five days, I saw a significant improvement in my daily skills. I only had to take two muscle relaxers in the first week. If Dr. Weimer had not been there for me I would have been dependent on medications, miserable and I would have missed work. Because of Dr. Weimer's care, I lost no sick days and my quality of life improved. I have recovered completely from the pain that was caused by the rear end collision.

-By Kelli Davila Modesto

Weimer Chiropractic is committed to helping me as long as it takes to find the best solution. I never have to worry they will back out or give up if a solution is not reached immediately, which has been a problem for me in other places. They also allow me to text the office for a same day appointment on days when I wake up in pain from sleeping in a bad position. They always dress so professionally here, the entire staff makes an effort to maintain a professional appearance. When comparing them with other Chiropractors I have visited for the same conditions of neck, back, leg and foot pain, Dr. Weimer is the best. -by Don, summarized from Wellness.com
---
Fibromyalgia, Neuropathy, Carpel Tunnel a Pain Management
I met Dr. Weimer at a social gathering one evening while seeking out the ibuprofen I left on a table. After hearing the comment of "I need to let my arm settle down", Dr. Weimer asked what was wrong. I began to tell the story of how a garbage can had fallen on me, and that led me to the explanation of the other problems I have been living with for some time. At that point, he performed a quick exam assessing my overall strength, balance, and asked about my pain level. He replied he could help me, and to make an appointment as soon as possible. For the first time in a long time, I actually had some hope I could receive relief from my pain.

My conditions have been ongoing since 2003, and I've been diagnosed with Fibromyalgia, Neuropathy, Carpal Tunnel, and a tear of my right bicep tendon. These conditions caused pain, numbness, and loss of strength. My pain was about a 7/10 on a daily basis. Doctors had prescribed various medications: a wrist brace for the Carpal Tunnel, physical therapy for the bicep, and condescension. My life had taken a great hit: having lost much strength in my arms and legs, not being able to stand for long periods, and losing the energy to complete everyday tasks. Socially, I did not get involved as much as I could have. I had resigned myself to living in pain.

In the few weeks of seeing Dr. Weimer, my pain level has dropped to a 3 or 4, and my tendencies toward social interactions have taken on a more familiar state. People at work are saying things like "Oh, you must feel better!" and "You seem like you're in less pain!" My sleeping patterns have become much better, my standing for 8 hours a day doesn't cause the same amount of pain, and my mental faculties (such as cognition and sociability) have improved. I have less bicep pain, the numbness is absent, my muscle strength returned, and my posture has improved. Interestingly enough, I now fully realize how much pain I had previously been in.

I would highly recommend Dr. Weimer to others. I have given out his cards, and now believe just because a medical doctor says "This is all we can do for you", that doesn't mean he is right. Dr. Weimer will probably help you as much as he helped me.


Dr. Weimer knows his stuff, he is probably the best Chiropractor in this area. By RK
---
Auto Accident Injury
Two car accidents 20 years ago left me with chronic low back and neck pain. Other chiropractors had no results. Dr. Weimer must have gone to some great schools because he knows more that any Chiropractor I have talked too. Thanks to Dr. Weimer I am PAIN FREE.
-Don J.


---
Car Accident Recovery
I was rear ended while at a stop in my car. I had no pain or discomfort for 48 hours. That following Monday, April 21, I woke up stiff, sore, and could not lift or turn my head without extreme pain. I called my family doctor, was seen and x-rayed right away. The diagnosis was whiplash. I was given a muscle relaxer, a referral to a physical therapist, and told to take two Tylenol for pain. I called the physical therapist and was told that they could not see me for several weeks.



Frustrated and near tears from the sharp neck and shoulder pain, . Leery of chiropractors in general, I gratefully showed up at his office doorstep. Dr. Weimer and his helpful staff made me feel comfortable, relaxed, and answered all of my 100 questions. Dr. Weimer dispelled my fears and urban legends of chiropractors.



Because of the intense acute pain I had difficulty driving (checking my blind spots) and sitting at my desk for long periods of time, working on the computer, talking on the telephone, and typing. After one treatment my pain went down significantly. After five days of treatment, I saw a significant improvement in my daily skills. My pain went from 10/10 to a 3/10 in two days. I only had to take a muscle relaxer twice that first week Dr. Weimer began working on me. I know that if Dr. Weimer had not been there for me, I would have tried to stick it out, on my own. I would have been miserable, dependent on muscle relaxers and pain medication, and I would have lost valuable work time.



As a result of Dr. Weimer's expertise, I lost no sick days from work and my quality of life has improved. Thank you Dr. Weimer.




I have been to over eight chiropractors in my life and Dr. Weimer is by far the best. He keeps me active and mobile. When I leave his clinic I feel like a millions bucks. Dorthy D. 90+ years old

I love playing soccer, but my knees were so bad I could not play. Thanks to Dr. Weimer I joined a league and I am back doing what I love.

-Sarah T.
---
Acute Leg and Shoulder Pain
A friend had told me Dr. Weimer had some Neurology training beyond what most doctors have and I wanted an exam to explain some ongoing issues. His exam was detailed, he found problems on my X-rays my previous Doctors had missed, and the Report of my pain pattern was informative.. We started with two visits a week, and after a few weeks my neck was pain free and my finger tingling was gone. I was pleased that I sleeping through the night when I had not slept that well for a decade. I had more energy and I could take long walks and exercise more.



I will recommend Weimer Chiropractic to anyone in pain.



Thank you to all who submitted reviews, we are so encourage that many represent our long History of success in Accident Recovery, Pain Relief and Chiropractic Neurology.
---
Stories below are from a 2007 trip to a Medical Clinic in El Salvador. Pictures are by special permission.
---
A Life truly changed!
This woman worked carrying fruit and vegetables to market. As she slowly became dependent on a cane to walk, she became unable to work, and therefore, unable to support herself. She was in a desperate position.

After the adjustment she was able walk normally without the cane. She came in the next day, still without the cane. I asked her, Where is your cane? she stated, I threw that old thing in the dumpster. Her life was truly changed!
BEFORE AFTER
---
Resuming Caring for Herself
she could not raise either of her arms more than a couple of degrees away from her side. She could not dress, wash, or care for herself because of this limited motion.
She had regained near normal motion in each arm. Instead of depending on others to care for her, she was able to resume caring for herself, even at the age of 90.


Dr. Timothy J. Weimer and the team
from Weimer Chiropractic PC
TEXT OR CALL TODAY - 209-549-9987